Our Services
Serving Kings County, Nassau County, Queens County
My Dentist PC: The Family Practice in Brooklyn, NY is a premier dental office and your source for early diagnosis and regular preventive care. Be sure to find out about our discounts if you are without insurance when you call 718-495-8801 to find out more about our dental services:

* General Dentistry
* Oral Surgery
* Exams & X-Rays
* Cleanings & Fillings
* Teeth Whitening
* Bonding
* Porcelain Veneers
* Crowns & Bridges
* Orthodontics

About Us
Dental Office Brooklyn NY
At the dental office of My Dentist PC: The Family Practice, we don't have a one-size-fits-all approach to our patients. For this reason we have a very high success rate. Our dental office is operated by a very skilled dentist and a caring staff just waiting to get to know you.

Dr. Dmitriy Volotsenko began his career as a general practitioner in Brooklyn where he worked at his premier dental office for over 15 years performing cosmetic and family dentistry. His state-of-the-art dental office treats patients of all ages specializing in general and cosmetic dentistry, oral surgery and prosthetic procedures, endodontic and root canals, gum disease treatment, teeth whitening, cleanings, cancer screening, and more. We will also take the steps necessary to treat advanced tooth decay.

Our goal at My Dentist PC: The Family Practice in Brooklyn, NY is to continue to provide the high quality oral care that helps maintain a healthy body. To schedule your appointment, visit our website or call us at 718-495-8801 today. Our dental office accepts most insurance plans.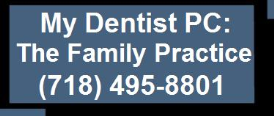 Dental Office Brooklyn NY
---
Payment Methods
Master Card, American Express, Discover, Cash